Arindal-Timer
Aus Arindal Wiki
This is a neat little Programm that tells you the exact (~5 ic-minutes or ~2 ooc-minutes exact) IC-Time. As extra-feature it tells you whenever the Koloseum is going to open, so you never miss the betting or fighting!
(sorry only windows so far)
Here a screenshot: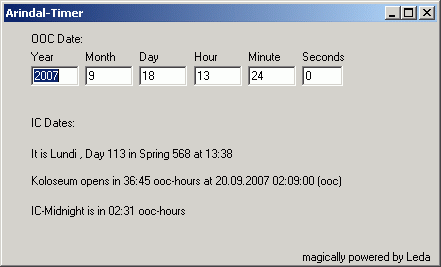 IF you have installed .NET Framework 3.5 or greater ... you can download the binary arintimer.exe and start by clicking it!
Otherwise you need to use the setup.exe to install the program and neccessary components.
arintimer.exe  -  setup.exe

a help and more stuff here later
see especially here: http://www.arindal.com/forums/viewtopic.php?t=1813
an online .php variant of this: http://brightlight.ch/days.php